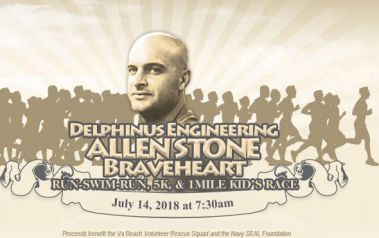 Location: Running Etc. (Virginia Beach)
1940 Laskin Road #302
Virginia Beach, VA 23454
Registration Details:Participants are encouraged to pick up their race packets on Friday, July 12th, from 5 PM until 7 PM at Running Etc. (Virginia Beach) to avoid waiting in line and delays on race morning.
Event Details: The races start at the 24th Street Park on the Virginia Beach Oceanfront at 7:30 AM on Saturday, July 13th.
Event History: When this race was run for the first time in 1999, it was called the Braveheart Run-Swim-Run. Allen Stone, a local Navy SEAL and friend of the organizers, competed in the event and won the 20­–29 male age group.
Tragically, it was Allen's last race. A short time later, he died during a Navy SEAL training exercise. To honor his courageous service, the race committee decided to rename the race as a memorial to our fallen friend and local hero. We hope you'll share our appreciation for Allen's courageous spirit and participate in this exciting, family-friendly sporting event in Virginia Beach. With Allen's enthusiastic zeal for life and outgoing personality, we know he would have welcomed you!
Event Web Site: The Allen Stone Memorial Races