Footwear
---
Happy feet start with proper fit! Proper fit starts with a staff that understands feet and footwear.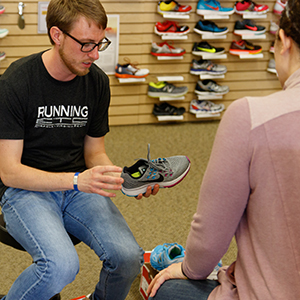 Our staff will take the confusion out of buying running shoes. We are known all over the state for our expertise in putting runners in the right footwear. We will watch you run, analyze your foot type, check the fit and recommend shoes that will keep your feet happy. We understand how footwear can help you, and we know how improper footwear can hurt you.
Whether you're running for fitness or competition, we have the most comprehensive selection of running and competition shoes in the region. This includes neutral shoes, stability shoes, motion control shoes, light weight trainers, trail shoes, road racing flats, cross country spikes and track spikes.
We carry a comprehensive line of Brooks, Asics, Saucony, New Balance, Nike, Hoka, Adidas, Altra, Newton, and Mizuno. We carry women's shoes in sizes 5 through 13, many in AA to 2E widths; men's shoes ranging from 7 to 16, many in B to 4E widths; and kids' running shoes in regular and wide widths.